Lake Level & Colorado River Report
July 5, 2016
After several years of drought and low lake levels, Lake Buchanan is now 93% full and beautiful! Low lake levels affected not only lakefront homes that had diminishing waterfront, but fishermen had more difficulty finding a boat launch. After generous winter and spring rains, the lake is back to beautiful.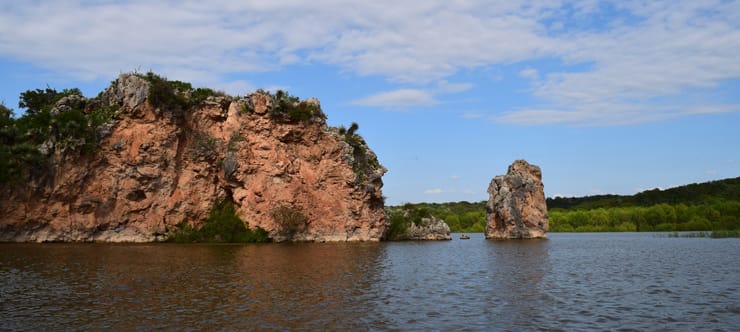 We recently had family outings on Lake Buchanan and both were a lot of fun. There are two public boat ramps on the Llano County side that I am aware of; the largest and in my opinion the best is adjacent to Blackrock Park and it is owned and maintained by Llano County. The boat ramp is concrete, wide, and extends a good distance into the water, as it was extended during the drought. There is also a small pier where you can park your boat and wait if needed, as this is a popular place to launch. This launch site is near the dam, on the south side of Lake Buchanan, off FM 261. The area around the ramp is mostly clear with little debris, and the wide body of the lake is very close.
The other public ramp is located at Cedar Point Recreation Area, a LCRA park. This ramp is concrete but is shorter, more narrow, and no pier so you have to beach your boat in the sand if you need to wait for someone to get the boat trailer. At this time, there is still some floating debris, and minimal brush and tree cover to navigate through. The one advantage to this location is that it is closer to the Colorado River and the scenic falls at Falls Creek, as it is on the north side of the lake.
After spending some time on the main lake, we cruised up the Colorado River, all the way to Colorado Bend State Park. A depth finder and navigation equipment is very helpful, if not necessary in some areas. Finding the Colorado River channel can be challenging, as there are trees that grew during the drought and they are now partially submerged but you can carefully navigate through them. This area up the Colorado River is very rustic and undeveloped, with high cliffs and numerous waterfalls – it is very beautiful and scenic. We saw few people or boats, but we did see the game department boat patrols so be sure to have a fishing license if you plan to fish. We fished for Striped Bass but did not have any luck; the water was cold and fish were deep, or maybe they didn't like what we were serving.
We enjoyed seeing all the families camping and having fun at Colorado Bend State Park – I was really surprised at how many were there! The journey ends at the park, as water hazards abound past this point with submerged boulders. Kayaks and canoes were having a great time, though, and fishing where we couldn't go in our boat. They rent kayaks at the State Park, and have a little store and clean restrooms. There is no pier or anything here, we just tied up to a tree and hopped out. The river is not very wide at this point, but several feet deep when we were there.
The photos were taken on our excursion, at the waterfall on Falls Creek. If you haven't checked out Lake Buchanan in a long time, please do! Although not as popular as Lake LBJ, it is a beautiful place to spend a few hours on a pretty day.