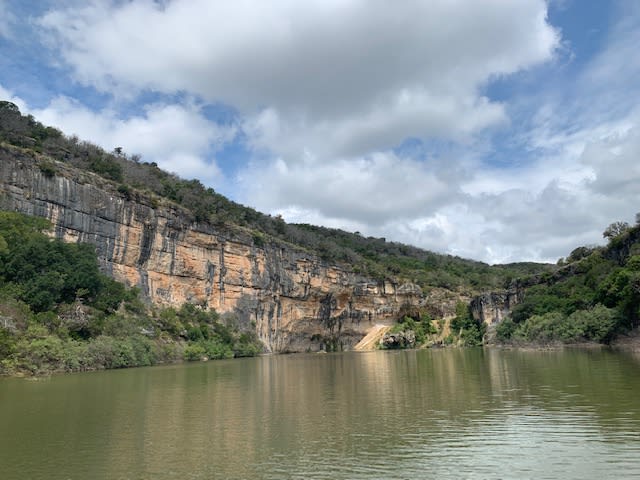 We haven't been on Lake Buchanan recently, so we took the boat out Saturday (8/24/19). It was a beautiful day, and the lake was smooth and the conditions were ideal. According to the LCRA, the lake level is 97.7% full which is 3' below the full level of 1020'. Here's an update, and some helpful information.
When we arrived at our chosen boat launch spot at Blackrock Park, we were shocked to see that the small metal dock adjacent to the ramp is gone! This makes it very difficult to launch a decent-sized boat, as the driver that parks the trailer must walk or swim out to the boat to get in. There are large rocks along the bank, so you can't beach your boat for a few minutes, which is the case at Cedar Point. Very inconvenient. I contacted Linda Raschke, Commissioner for Precinct 2 Llano County, and she told me the dock was severely damaged recently in a wind storm. It is being repaired and will be replaced soon.
A lot of boats had already launched when we arrived at 8 am, and we found out a Texas Fishing League Bass Tournament was going on. The winner caught an 8 lb bass! Even though there were a lot of boats on the lake, we saw very few. This is one of the fantastic qualities of Lake Buchanan, the lake is so large that it never feels crowded.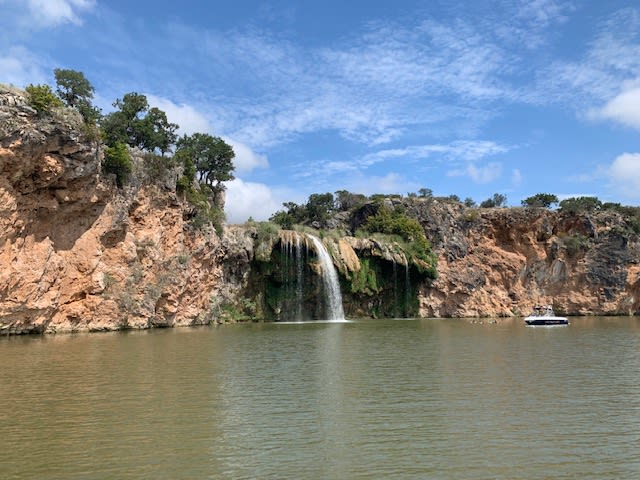 We headed up the Colorado arm, where it is wild and scenic. There are still a lot of treetops sticking up in the water, a reminder of the severe drought several years ago. To get to the main channel of the Colorado River, you have to navigate through these but it is easier now that LCRA has placed red and green markers to help find the correct way. It is also very helpful to have a GPS system with lake maps on your boat, which identifies the main channel. After you navigate through the "trees", the main channel becomes evident and debris is minimal.
The falls at Falls Creek is still flowing and very pretty. This is a great swimming spot – anchor, up, and enjoy it for a while. Earlier this summer, there were usually several boats, with music playing and people having fun, but only one on Saturday.
We continued our journey upriver, and good water levels would allow you to travel all the way to Colorado Bend State Park, where the journey ends due to submerged rocks.
Kayaks can launch at Canyon of the Eagles, at the very end of Ranch Road 2341 in Burnet County, to paddle to the falls at Falls Creek. We have done it in the past, but it's not an easy paddle and a long way. If you decide to do this, be sure to leave in the morning as early as you can, as winds in the afternoon can make your return trip very difficult.
We always stop to swim along with one of the sandy beaches, and usually, the water is cool and pleasant. On Saturday, we swam close to the dam, across the lake from Black Rock Park. Other great swimming spots include Garret Island and the extension of Shaw Island. Just beach your boat in the sand and hop out. When you get ready to leave, push your boat out a little and take off. Of course, do not trespass, there are plenty of places to swim without going on private property.
The flood in October 2018 changed depth in some parts of Lake Buchanan, but not as much as Lake LBJ. For example, the most recent topo map we keep at our office indicates the area between the end of Shaw Island and the small island extension is around 10' but it is now only about 1-2' deep at the current lake level. A depth indicator is very useful, but if you keep to the main channel you won't have any problems.
Lake Buchanan is a pretty lake, and boat traffic is low. I believe the lack of good public launch facilities is one reason. Another is because it is a flood control lake and elevation fluctuates so property owners must have floating docks that can extend as the lake level decreases. This adds to the cost and is certainly an inconvenience factor. But don't let this deter you from visiting this beautiful lake – you'll be happy you did!