Llano River Report
May 2016
We have had amazing weather this year, and have been blessed with ample rainfall. Lakes are full and rivers are running. The Llano River is at it's most beautiful right now and temperatures are perfect. If you have been waiting to bring a kayak or fish, don't wait any longer!
Our "outdoorsy" family has spent many hours and days on the Llano River, from west of Junction to the "slab" at Kingsland. We have several kayaks and canoes and know every section almost by heart. The Llano River has a lot of variety, and is certainly a river with personality!
The North Llano and South Llano Rivers meet in Kimble County, near Junction, to form the Llano River. In general, the river in Kimble County is almost always easily navigable by canoe or kayak. The water is usually cool as it is closer to the springs that feed this section, and slightly blue due to the limestone bottom. It is very scenic, with high bluffs in some areas. As you move down the river through Mason County, more granite rocks appear and rapids and shallow areas become more numerous; there are also sections of wide, slow moving water. In some places you can expect to drag your canoe or kayak, and there are several concrete river crossings that require portage. In Llano County, boulders and "rock gardens" can make navigation difficult and a challenge. Between Llano and Kingsland, there are sections of the river that run slowly, then tough rapids to run. Along the way, sand bars and deeper holes of water offer a great place to get wet and take a break. You can stop in the riverbed, on sand bars or granite rocks, but should not trespass onto private property adjacent to the river.
If you are a experienced kayaker or canoeist, and want to check out the Llano River, the ideal first time distance is about 7-8 miles. Even if the river flow is not ideal, you will have time to stop and swim often and you won't be too tired at the end. If you like to fish, you can check out the creeks flowing into the river – bass are abundant and fun to catch. We have enjoyed several overnight camping trips, canoeing 3-4 miles, camping on a sand bar, then 3-4 miles the next morning to our takeout spot. Sit on top kayaks are the preferred method of navigating the Llano River, but on overnight trips we always bring one canoe for our coolers, tents, and camp chairs. Its a good idea to bring a camp stove, as dry wood is surprisingly hard to find and burn bans are common in the summer. River crossings are good places to put in and take out, as there is usually a place to park near the river. In Llano County, a short day trip is to put in at Schneider's Slab (County Road 103) and take out at Scott's Slab (CR 102). A longer run would have you starting at Castell and ending at Scott's Slab.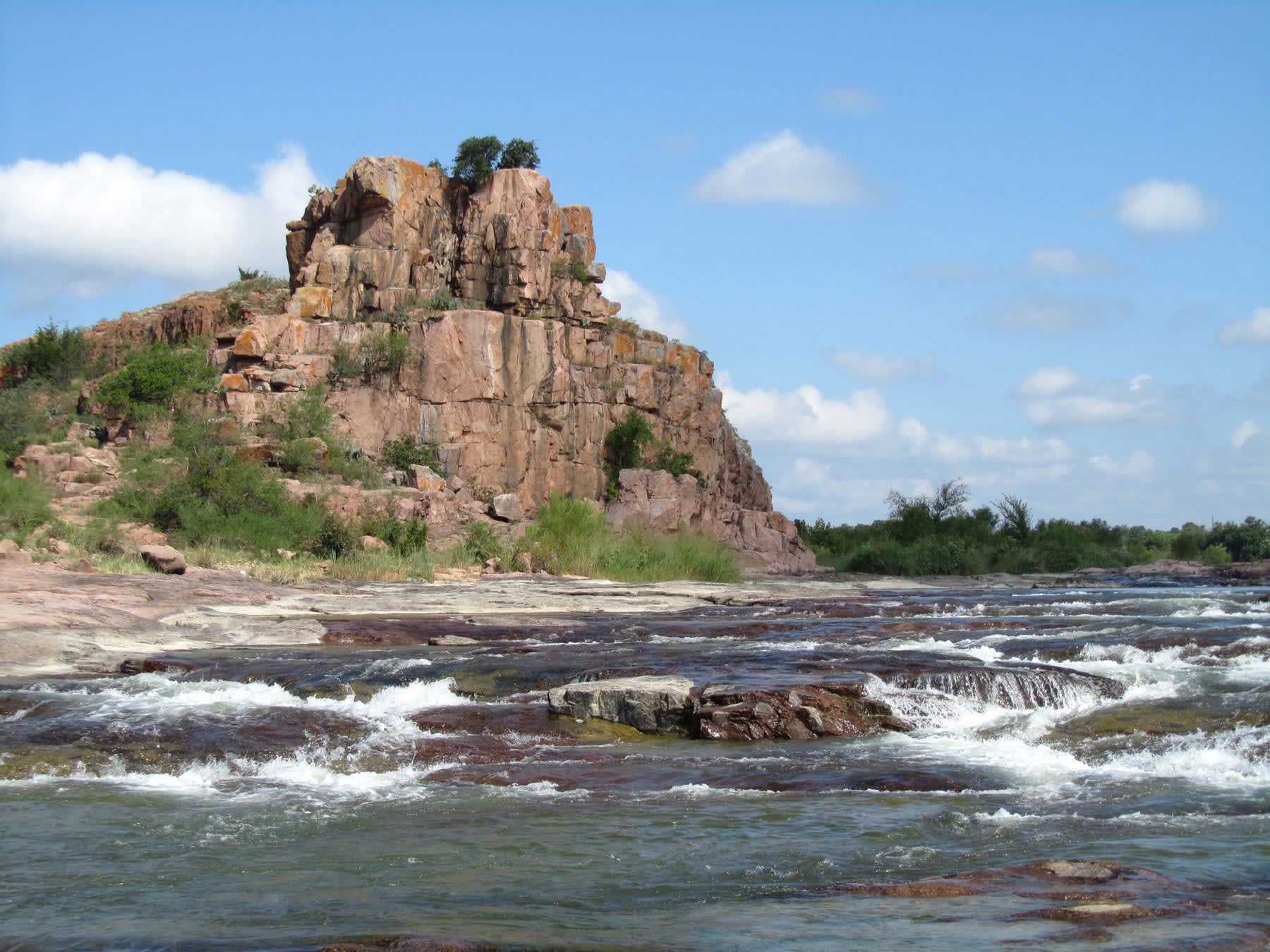 One of our toughest days on the river was when our family decided to go from the City of Llano (below the bridge) to the Kingsland slab, about 14 miles. It took 7 hours, and was very difficult – it was difficult because the river was not flowing well and strong southeast headwinds made paddling strenuous. In contrast, some friends of ours did the same trip two weeks later in 3.5 hours – so important advice, always check the river flow and wind forecast before your trip!
If you plan to fish bring your fishing license. Bring insect repellant, good sunscreen, and lots of water to drink (freeze the night before so it will be cold). Be sure to have a lifejacket in your kayak, we got a ticket for that once (despite the fact the river is mostly only a few feet deep). Let the sounds of the river carry you far away from your everyday life, bring your sense of adventure, and have fun!