The Highland Lakes are located west of Austin, not far from Marble Falls. When you visit the area, you have your choice of several fantastic wineries to visit. As you plan your visit to the Highland Lakes or begin to shop for Llano County real estate, you may wonder which vineyard you should check out first. Here are a few of the top picks for vineyards in the area. Hopefully, you'll have time to visit two or three the next time you're in town.
1. Torr Na Lochs Vineyard
Torr Na Lochs Vineyard
is located in Burnet. It was purchased by Blake and Karen Deberry, who planted their first vines in April 2014. The tasting room opened in September 2015, and it hasn't taken long for the winery to become one of the most popular destinations in the entire Highland Lakes area.
The tasting room sits a half mile off the main road, so don't worry that you're lost when you hit the gravel road. You'll enjoy spectacular views of the Texas Hill Country as you sit and sip their delicious offerings. If you're interested in a private tour for your small group, you can contact the winery in advance to plan a custom tour that satisfies your group's preferences.
You can also join their wine club to get quarterly shipments of top picks from their cellar. Members are the first to enjoy their newest releases, and some of these picks are only offered to club members. Their facility hosts special events such as weddings throughout the year.
The tasting room is open Tuesdays, Wednesdays, Thursdays, and Sundays from 12 p.m. to 5 p.m. On Friday and Saturday, they open simultaneously and don't close until 6 p.m.
2. Perissos Vineyard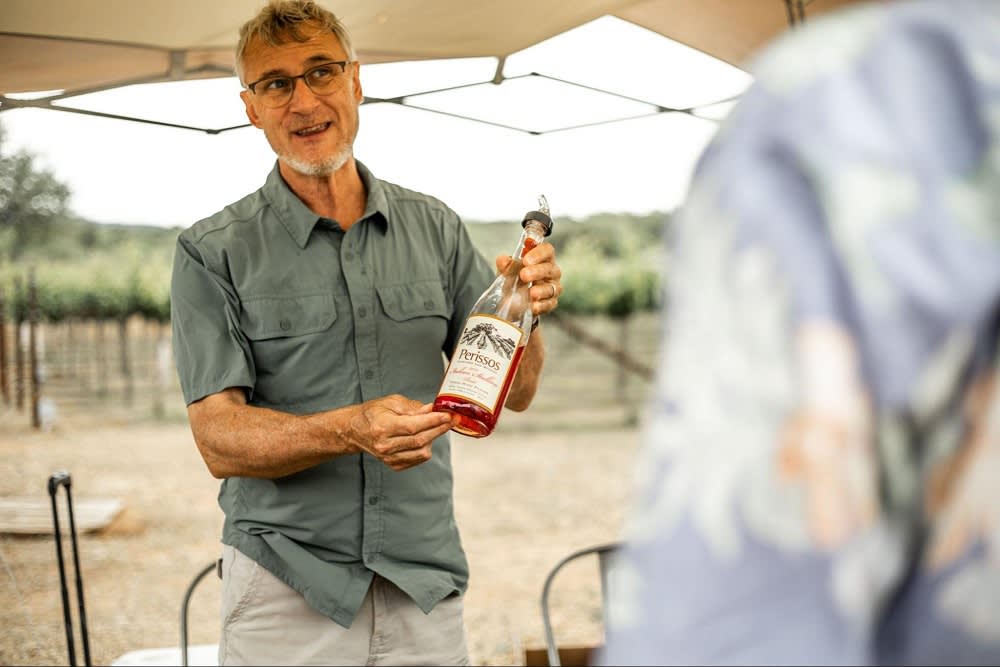 Photo courtesy of Perissos Vineyard
Perissos Vineyard and Winery
goes beyond what anyone could expect. Their wines are crafted directly from the Texas soil by local growers. Tasting packages start at $24 per person; some experiences don't require reservations. Expanded packages require appointments, but you'll get the chance to enjoy a tour of the vineyard and the production facility if you can plan your visit.
The tasting room is open from 12 p.m. to 5 p.m. Sunday through Thursday and 11 a.m. to 6 p.m. Friday and Saturday. They offer different membership levels for anyone interested in participating in their wine club. Enthusiast members will enjoy shipments of two bottles three times each year, along with 15 percent off all bottle and glass purchases. Legacy members get 25% off all purchases in addition to receiving three bottles four times per year.
3. Fall Creek Vineyards
Each wine at
Fall Creek Vineyards
is locally grown and 100% Texan. Despite their commitment to using locally sourced ingredients, Fall Creek wines are known and enjoyed across the globe.

Ed and Susan Auler began experimenting with growing wines on their Fall Creek ranch after a trip to France in 1973. Their test plot quickly grew, and they soon purchased 400 acres near Lake Buchanan to allow more space for vines. The owners have since expanded to multiple locations in addition to their original Tow vineyard.

The tasting room at Tow is open four days a week. You can come by Sunday, Monday, or Friday between 12 p.m. and 5 p.m., or you can visit Saturday between 11 a.m. and 5 p.m. They also take private tastings Tuesday through Thursday if you call ahead to schedule an appointment.
4. Wedding Oak Winery in Burnet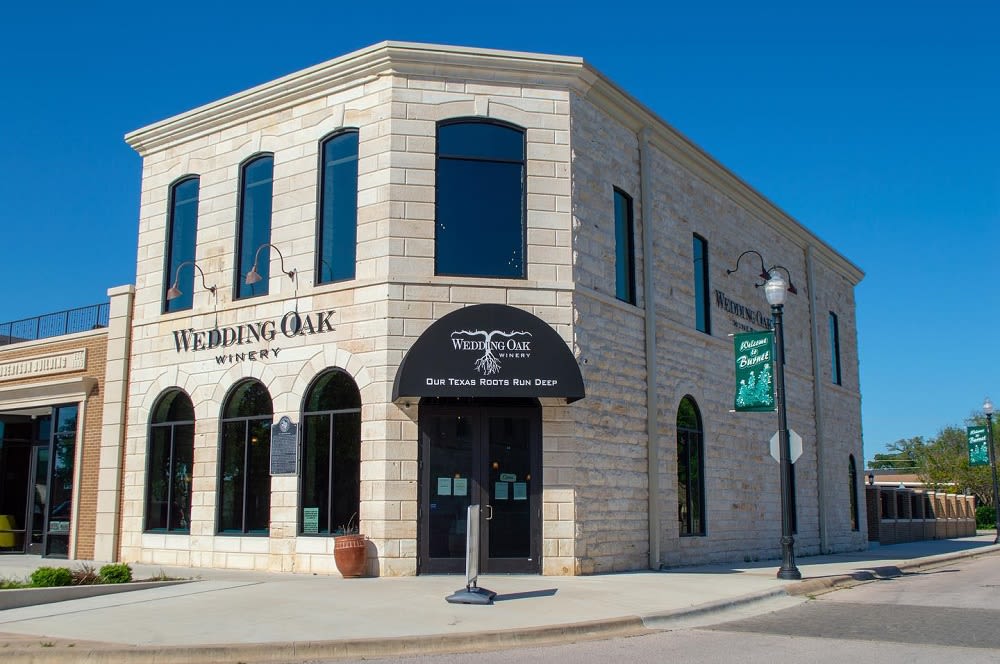 Photo courtesy of Wedding Oak Winery
The tasting room at
Wedding Oak Winery
is open seven days a week for guests to stop by and enjoy their 100% Texas-grown wine. Its name refers to a 400-year-old oak tree that grows about two and a half miles away from the winery. Weddings and ceremonies have taken place near the tree since Native Americans lived there. Reservations are required if you're coming with a group larger than seven people. If you want to take a few bottles to go, you can place an order online or call ahead for pickup.
5. Flat Creek Winery
You'll enjoy comfortable spaces for indoor and outdoor tastings in the Tuscan-inspired tasting room at
Flat Creek Winery
. Guests love spending afternoons chatting with friends and sipping delicious wine in the pavilion. You can also set aside time to enjoy a meal inside their intimate dining space. Flat Creek Winery sits on an eighty-acre estate designed to offer one-of-a-kind experiences for every guest who visits. There are also multiple walking trails and an 18-hole disc golf course on site.
6. Fiesta Winery
Fiesta Winery
offers award-winning wine at four different locations in central Texas. They know you have many options when shopping for wine in the area. Simplify your process by choosing the best options and buying in one of three ways: visit the winery yourself, patronize an area retailer, or have their wines shipped directly to you. Fiesta also has a wine club with multiple membership levels. You can sign up to enjoy their best bottles shipped to your door.
Once you get a chance to enjoy the best wineries in the Highlands Lake area, you may start thinking about what it could be like to live in the area. If you're considering shopping for Llano County real estate, make contact with
Landmasters
. The team works hard to serve clients with professionalism and care. Working with Landmasters, you charter one of the top-producing teams in the entire Dallas area.
Reach out today
and partner with the local experts at Landmasters.
*Header photo courtesy of Perissos Vineyard